Streaming in China and how to use it for sales
Content:
China and streaming services
The term "streaming" in the Western world is still mostly associated with games and entertainment, but video hosting in China and Chinese streaming apps has gone far ahead. There are already more than 200 different Chinese streaming platforms that allow streaming in one form or another. After all, they have become not only the popular format for short video platforms, but also the main sales tool.
Maybe you heard that one Chinese blogger sold red lipsticks for a record 145 million US dollars during a stream? The team of China Digital Marketing Agency will talk about the streaming platforms in China and why it is so important for foreign business.
Austin Li, the best salesman of beauty products in China,, he once sold 15,000 lipsticks in just five minutes
What is live streaming?
China has become a pioneer of streaming sales over the past few years. China Network Internet Information Center published data that the number of Chinese users who watch streams in 2019 exceeded 430 million. This fact demonstrates that user generated content in Mainland China and Chinese streaming platforms are becoming the largest online video platforms for implementing modern marketing strategy related to an increasing role of digital marketing.
Chinese streaming platforms have developed in the same way as western video platforms did. Initially, short video site format and online video content were not connected with a financial interest and were not heavily dominated in digital marketing. The online video market has just started to develop, and bloggers just wanted to share with their subscribers what was happening right now. But now video content in video hosting services is a kind of parody of home shopping. Key opinion leaders show and talk about products in real time through a live stream mechanism. Internet users following them, in turn, have an opportunity to get to know one' products better, see how they can be used and instantly make a purchase using the built-in link to the store.
The pandemic and coronavirus have further affected the development of online shopping. In the first half of 2020, the enterprise value of video platforms in China grew to 456 billion RMB or 70 billion USD. Domestic platforms can officially be called the main shopping channel for Chinese audiences, therefore ignoring delivering video services and live streaming features in China is a big omission for foreign companies.
Popular streaming services on Chinese market
Almost every social network in China has its own version and streaming function. Even simple messengers like WeChat have already integrated streaming into their ecosystem. Which of the platforms to use is up to you to decide. In this article we will highlight the most significant players and top Chinese streaming services widely have been drawing the attention of local consumers lately.
Douyin
The Chinese version of Tiktok, being the largest short video platform in China, has overtaken many of its local and Western competitors and become one of the top downloaded app. Created in 2016 and started as a program for sharing short form videos, now it has more than 400 million monthly active users and has ceased to be just a social network.
Thanks to integration with the largest e-commerce platforms, Douyin allows selling without leaving the application. It is possible to provide direct links to Taobao in embed videos with a product and broadcast them immediately during the stream. There is also a unique system of donations, credited first to the wallet, where it is converted into coins which can be transferred to bloggers to express gratitude.
The main audience comprises people living in large cities of tier 1 and 2, such as Shanghai, Beijing, Guangzhou, Tianjin, Hangzhou, Nanjing, Wuhan, Qingdao, etc.
Interesting cases:
Luo Yonghao, ex-founder of smartphone company Smartisan and an opinion leader in the technology industry, during his first stream sold electronics brand products worth more than 168 million CNY (25.7 million USD).

Actress Li Xiaolu sold goods worth 35 million CNY (5.3 million USD) in one stream
Kuaishou
The second largest short video app. Unlike Douyin, Kuaishou's Chinese viewers are mainly made up of residents of lower tier cities, the so-called Tier 3-4, and even rural areas. This short video platform is considered a true window to China, which allows seeing how an ordinary Chinese lives. There are also popular streams where you can insert links to your product in Taobao.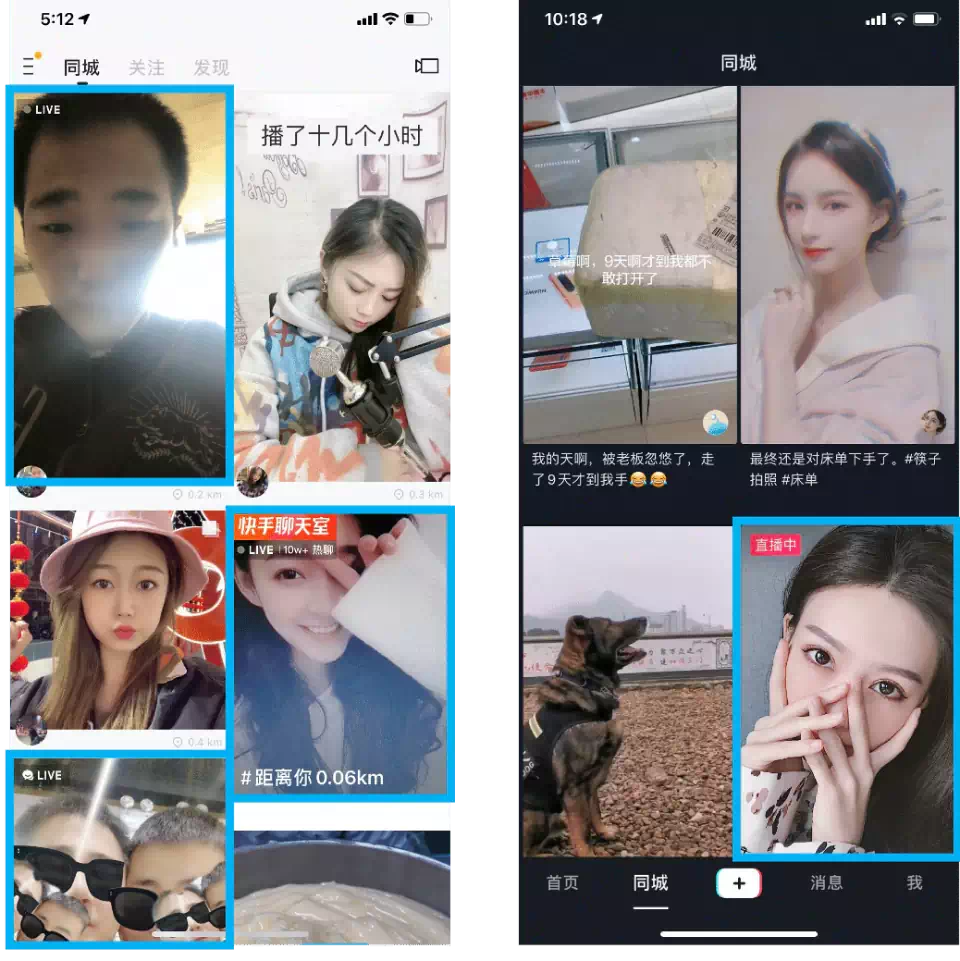 Kuaishou is on the left, Douyin is on the right.
Taobao Live
Another important video platform integrated into the Taobao marketplace. Users can make purchases immediately while watching the stream. There are different categories such as food, travel, lifestyle and others. Taobao Live tops the list in terms of China market share. In 2020, customers had access to more than 500,000 hours of content daily, and the number of newly registered accounts doing video hosting in China almost doubled.
Alibaba, which owns Taobao, also announced the support of streams from farmers and sellers from the village of cūnbō (村村).
Taobao Live streaming service
Inke
It is an online video platform that was created in 2015. The app is an example of Chinese streaming platforms like a mix of Twitch and live.ly, which presents content in various formats from Let's play to videos with the ordinary chatter.
About 25.5 million people are related to monthly active users. As well as in other more popular applications, Inke has a monetization system where subscribers can send donations to streamers in real time for their online videos. Previously, the monetization system and Inke algorithms appeared revolutionary, but now the platform lags behind other platforms in terms of innovation and development and is much inferior to Douyin and Taobao Live.
Douyu
The largest streaming service for online games. An equivalent of the popular Western platform Twitch. Douyu was launched in 2007 as an AcFun video streaming service. The main feature at that time were user comments, which were displayed as a running line on top of the videos.
This is what made watching videos more interactive and allowed the platform to compete effectively with other video streaming sites. AcFun became the predecessor not only of Douyu, but also of another video hosting Bilibili - China video hosting equivalent of YouTube. Douyu is the largest video hosting service of its kind. In 2019, Douyu was used by 163.6 million people per month. During the same period, Twitch had 140 million monthly users.
Tencent video, also known as QQ video, is both a Chinese online video hosting and internet television company, attracting more than 900 million monthly active users of its own video hosting services. Tencent video monthly subscription service is used by more than 120 million subscribers.
Streaming platforms often use this platform for producing own content including short videos, original series, international content, etc. Tencent video contains other available services such as access to stream exclusive Netflix content, live sports, games, music and other categories. Therefore, it is a popular platform enabling brands to support lead generation and increasing sales. Multi million dollar investments by Tencent supported its integration into Tencent ecosystem as a social media category, nowadays Tencent video is linked with WeChat, which official accounts let their users embed videos.
Specific features of streaming in China
Diversity of platforms

No country has such a large number of specific video streaming platforms as China. For example, Douyin is suitable for targeting young people from large cities. Kuaishou – for residents of less developed regions of the country. Douyu is for gamers, etc.

High level of interactivity

Streams in China are always a game. Subscribers obtaining a commenting feature can interact with bloggers and get answers to their questions. Streamers often use coupons and other monetary incentives to increase engagement. It seems that the future has already arrived, and we are witnessing a completely new quality of interaction in the entertainment industry.

Merger with e-commerce

Streams result in record sales just because of the high engagement. A high level of trust to the blogger, the ability to directly ask questions and communicate, warms up the audience and prepares it for making a purchase. Similarly, direct links demonstrated during the streaming push a person to an impulsive purchase. For example, a blogger shows some lipstick. At the same moment, a beautiful bright button pops up on the screen of your smartphone – this is a direct link to the store where this lipstick can be purchased.
Marketing your brand through online video platforms
As for approaches to promoting your brand through Chinese Streaming platforms, there are some main recommendations. First, working with Chinese platforms, operating on an ad-buying approach, try to ensure discreet brand integration. Advertisements viewing by local consumers should be creative, and brand messaging should be based on an interesting script and incorporating trends targeting your audience. Then, product placement on streaming shows also may be relevant to storyline because the Chinese audience is critical to excessive intrusions of brand promotion into plot. Besides, working with KOLs should not be missed because opinion leaders on Chinese streaming platforms continue to be a channel of engagement with Chinese consumers.
All in all, Chinese live streaming platforms have become not just another way of entertainment, but a unique phenomenon around which a business has emerged. Foreign brands should definitely consider video hosting in China and short video apps as a way of successful promotion among local consumers.