Advertising and Marketing in China
Content:
Offline Marketing

Online Marketing

Targeted advertising in China

KOL marketing

Contextual advertising and SEO

Censorship and legal regulation of advertising in China

Features of monetization
Advertising in China is not only a billion-dollar business, but also its own separate ecosystem. And if you decide to enter the Chinese market, you need to get acquainted with its basic laws and regulations. In this article China Digital Marketing Agency team collected all the relevant information about advertising and marketing in China.
Offline marketing
Advertising through conventional channels in China is gradually becoming obsolete. Compared to online promotion, offline advertising is less effective with a higher cost. In 2016, the total cost of TV advertising amounted to only 24.2% of all media advertising expenses, or 18.92 billion US dollars. This is two times less than the total share of online advertising costs in China. At the same time, advertising revenue on TV is also constantly decreasing. According to forecasts, by 2022 it will be decreased by 22% compared to 2013.
China Television Advertising Revenue
However, one shouldn't put advertising on TV and in print media out to pasture – as it is still important. For example, print media is often used to promote regional goods and services. The circulation of publications can be very impressive – about a million copies. There are also a lot of outdoor advertising in China – banners can be found in the subway, on the street, in the elevators of residential buildings. In the subway there is also an interactive advertising inside the ferry, which moves along with the train car.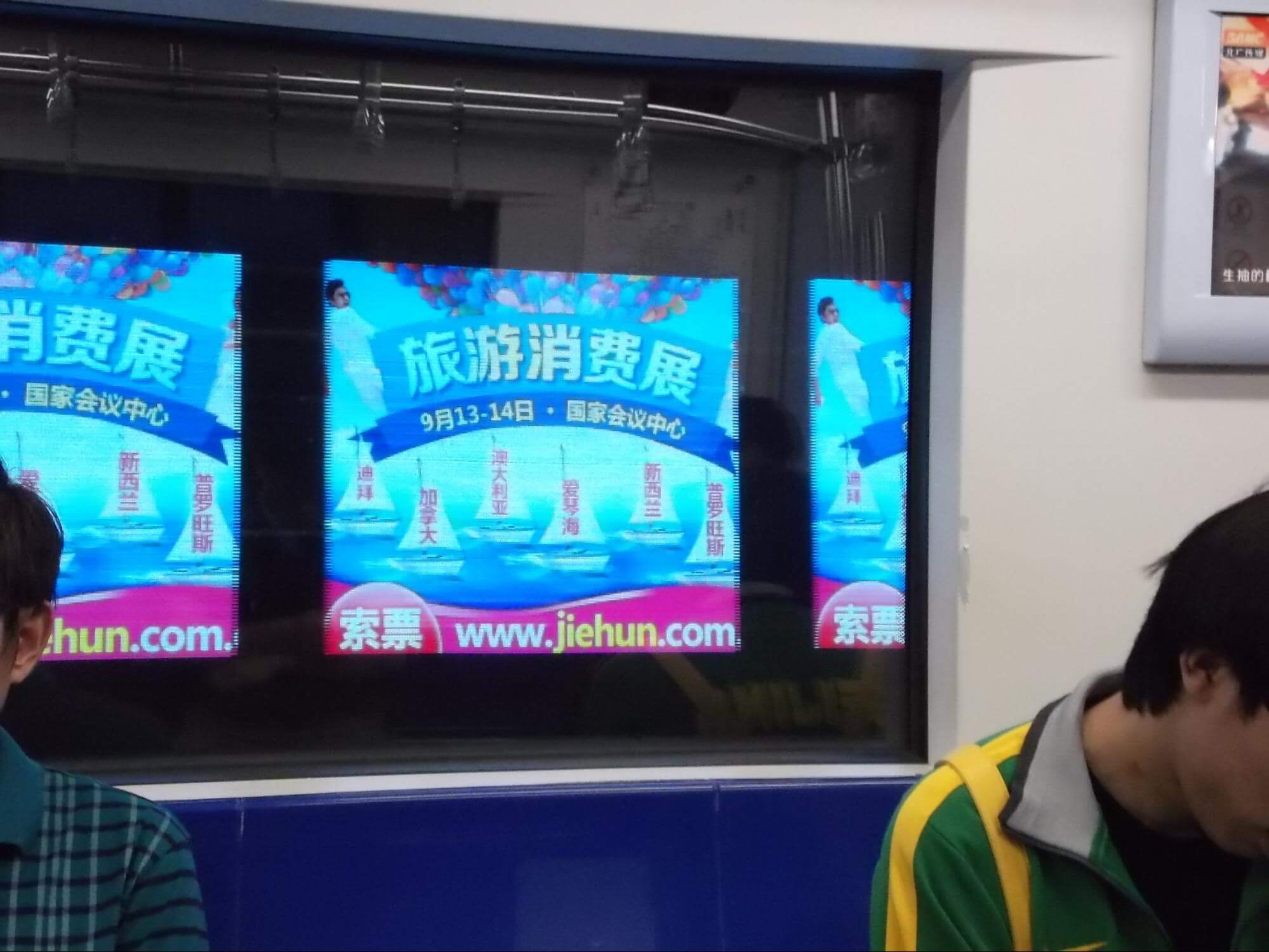 An example of interactive advertising in the section of a subway train (example №1)
An example of interactive advertising in the section of a subway train (example №2)
Participation in exhibitions provides really good results in terms of sales of foreign goods. Advantages of this type of advertising – direct contact with consumers, partners, the ability to choose any niche. China Digital Marketing Agency provides offline advertising services through exhibitions in China. You can act as an exhibitor, visitor, or order a pitching, meetup, or thematic competition.
Online Marketing
It is impossible in China to advertise via Youtube, WhatsApp, Facebook but there are national social networks. The most popular is WeChat, China's main messenger with more than 1 billion users worldwide, developed by Tencent. WeChat is incredibly important for Chinese people – if potential customers do not find information about you in WeChat, there will be no confidence in the company. You can promote your brand on the site in several ways: content marketing, purchase of advertising traffic or all at once. In the first case, you need to create an official WeChat account in which you will publish articles, talk about your product and convey the value of the brand. Read more about it here. In the second case, you will need to open an advertising office in the Tencent ecosystem, in which you select an audience through detailed targeting settings and launch your advertisements.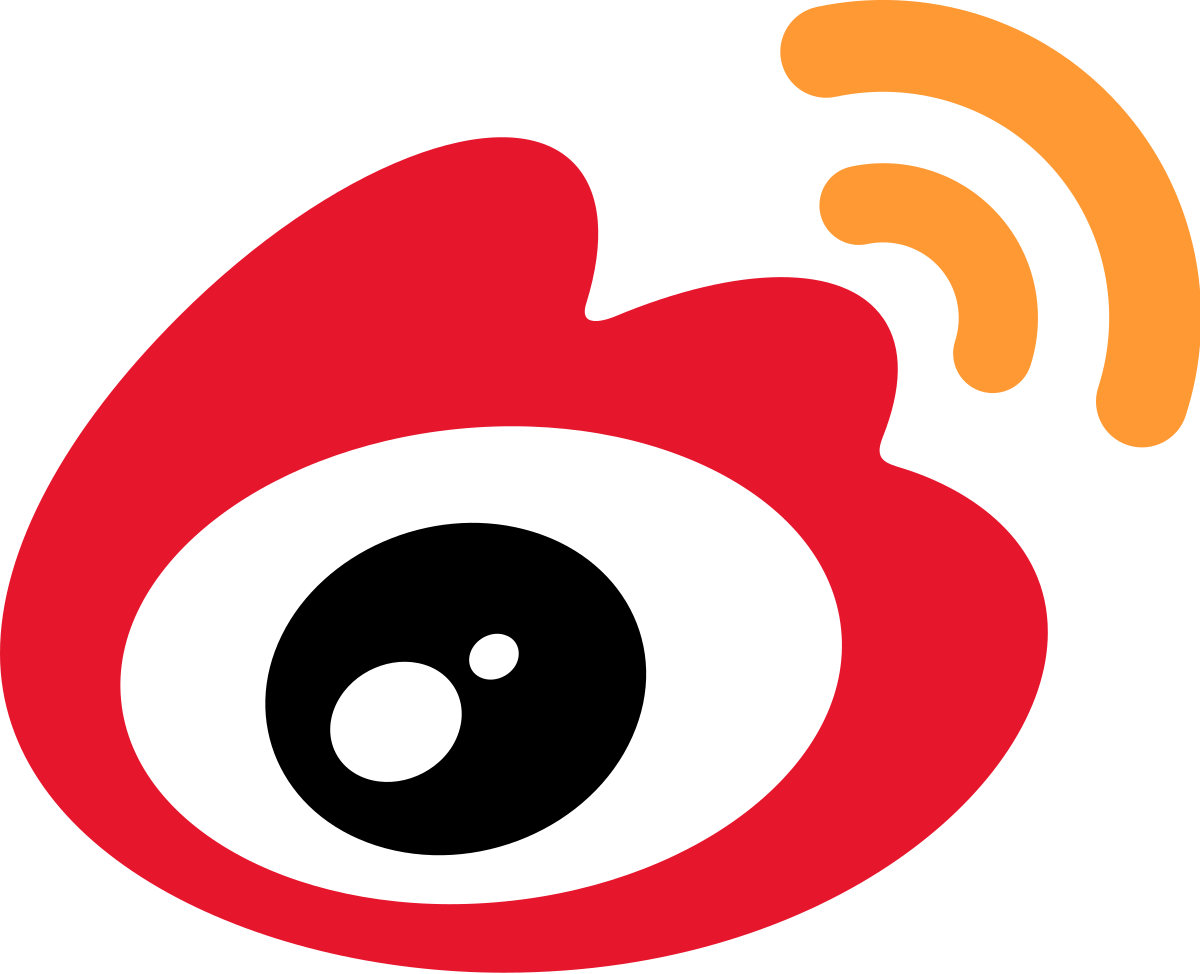 Weibo is a microblogging service that is often compared to Twitter or Instagram with minor differences. Pictures, news updates, videos are immediately broadcast to the official account. The channel is classified as an image one, it is ideal for brand promotion.
Douyin is a Chinese social network, the predecessor of Tiktok An application for quick creation, editing, sharing videos, viewing news feeds. Unlike its international counterpart, it has a developed e-commerce system within the platform. One can purchase advertising goods with one click. Targeted advertising inside the app or a separate advertising office "Ocean Engine" can be used for promotion.

Youku is the Chinese equivalent of Netflix and Youtube Youku is an analogue of Netflix and YouTube with a huge audience. Methods of promotion include text links, banners, post and middle rolls, advertising after pauses. Advanced targeting options are available, pricing is flexible. A good choice for promoting products to a wide audience.
Baidu Tieba is a Chinese infoblogging platform Baidu Tieba is an infoblogging platform. Here you can create your personal profile, track comments, post news, answer questions. The presence of direct communication is a plus to the standard set of promotion tools. The online service is integrated into the Baidu search engine, so with a decent frequency of mentions, the content is automatically pulled into the output.
Zhihu is a Chinese equivalent of Quora Zhihu is the Chinese equivalent of Quora, but with much more advanced functionality. In addition to blogging on behalf of the company, it is also possible to purchase media advertising on the platform.
Bilibili is a Chinese video hosting platform. Bilibili is not just a video platform, but a full-fledged community that unites the new Chinese generation. There are both paid subscriptions and an online TV service, as well as user-generated content. This is an ideal solution for promoting mobile apps, games and other themed products for a young audience.
QQ is a Chinese messenger from the creator of Wechat QQ is an instant messaging service from the company that created WeChat. This is an excellent platform for so-called guerrilla marketing and spreading information about yourself through private groups and chats of people sharing common interests. QQ is a Chinese messenger from the developer of Wechat
Toutiao – Toutiao - Toutiao is a Chinese news and blog aggregator platform
Targeted advertising in China
Targeted advertising can be configured on almost any Chinese social network. The peculiar feature is that this can be done either inside the application or with advanced targeting parameters using separate advertising account. We will describe this using the example of Douyin. If you have an account and you published a post, you can promote it in the app. It is similar to "Boost a Post" function on Facebook. The cost will be calculated by CPM, that is, per thousand impressions. Learn more about launching ads and promoting in Douyin. But if you want to create a separate advertising creative, you need to join Ocean Engine ads platform and configure advertising through it. In such an expanded account, you can not only choose an audience by age and gender, but also set the phone model that your potential customers use, the type of 3G, 5G or Wi-Fi connection, clearly indicate geolocation and the interests of future buyers.
KOL marketing
Another way of promoting in the Chinese Internet space stands out - promotion through opinion leaders and bloggers. China is not only the world's largest social media market, but also an incredibly rich and diverse online landscape. Despite the differences between the Chinese and Western social media world, China is 3-5 years ahead of the rest of the world. The expanded functionality and integration of social networks, digital payments and e-commerce have enabled the creation of business models that have yet to be explored in other countries.
It is due to the integration of e-commerce and social networks that the blogger market in China is growing at a tremendous pace. In 2019, more than 430 million people watched live streams, about 30% of the Chinese population. And in 2020, their number is expected to reach 560 million, or about 39%. In April 2020, a blogger known as Viya sold a record 40 million CNY, or 5.6 million USD worth of goods during a live stream.
The main difference between promoting through opinion leaders in China and working with bloggers in other countries is that such advertising is not treated with hostility. On the contrary, subscribers are waiting for live streams from their favorite bloggers, so that they, in turn, recommend and sell them products with a big discount. The level of trust of ordinary people to bloggers is very high. Therefore, it is important to know that without the involvement of opinion leaders the promotion of your product in the Chinese market can take a very long time.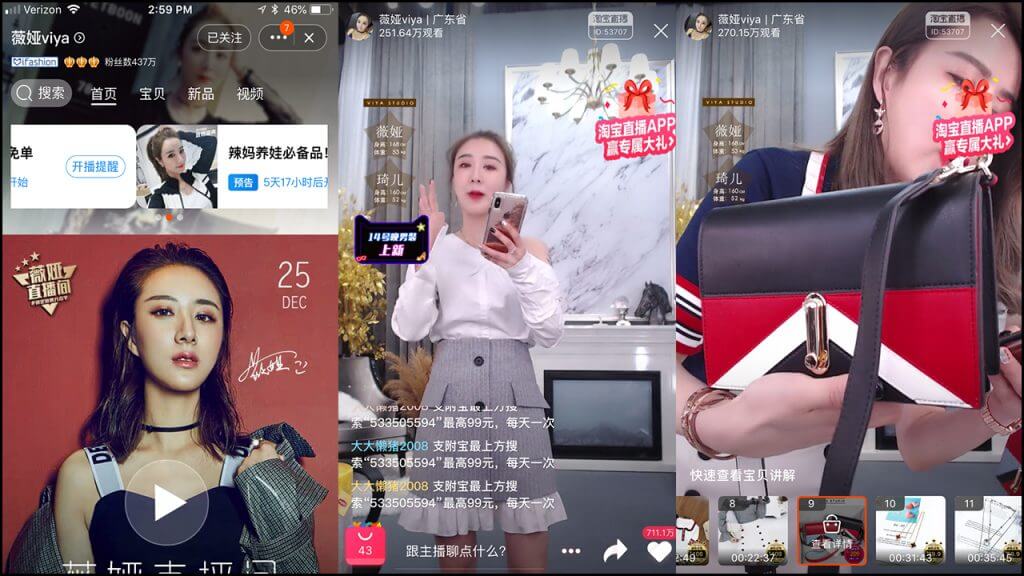 Blogger Viya's live stream on Taobao
Contextual advertising and SEO
In addition to social networks, which are more relevant for the image and branding of the company, contextual advertising and SEO promotion in Baidu can be used to promote in the Chinese market. Although Chinese consumers who want to make a purchase usually immediately look at products on marketplaces like Taobao and Tmall, they also often look for reviews, tips and other information on Baidu. Therefore, how much information about you will be in the main search engine of China will depend on whether your products will be bought or not.
Censorship and legal regulation of advertising in China
Sometimes it seems that the Chinese government's attitude to online advertising is mostly hostile. Many industries, if not completely banned, are constantly under strict control. For example, medicine, finance, education, real estate and mobile games.
The latest large-scale update concerning market regulation was the Advertising Law of the People's Republic of China. Some of its provisions include restrictions:
on the use of superlatives and words such as "the most" and "the best";

on the use of the national flag or anthem of China;

any advertisement that contains anything detrimental to national dignity or national interests;

for advertising tobacco products;

for advertising prescription drugs;

as well as any lies in advertising and misleading materials.
But in general, the government's motives are clear – to protect its citizens from low-quality and harmful goods, as well as, probably, first of all, to secure its reputation.
Features of monetization
The presence of local payment systems separate from the rest of the world in China can complicate the life of ordinary foreign companies. It is almost impossible to launch sales and even advertising without connecting Chinese payment systems such as WeChat Pay and Alipay. In most cases, you will also need a bank account in China to withdraw money. China Digital Marketing Agency provides online acquiring services via Alipay and WeChat Pay for receiving online payments from Chinese citizens and paying for some advertising services, for example, for targeting in Douyin.
Before launching ads on the Chinese market, you need to determine your the target audience, the advertising platform, and most importantly, your goals. Otherwise, your money will go to waste.
Need help to understand the specifics of marketing in China and promote your brand? Contact China Digital Marketing Agency. The agency's specialists know everything about advertising market in China and will help you achieve optimal results in a short time.