Create a Weibo account
Contents:
What Is Weibo?
Weibo is a microblogging service and one of the most popular social networks in China. As of 2019, it features 800 million registered users and 250 million active users monthly (according to Baijiahao). Weibo is often called a Chinese "Twitter", however, its functionality is so enhanced that it would be better to compare it to Facebook.
Read more Promotion in Weibo
Weibo is a convenient place to share short posts and illustrated articles with followers, post stories, videos, photos and audios, take opinion polls and make video broadcasts. Its comfortable interest and hashtag searching system provides opportunities for massive following and seeking bloggers relevant to your business. Weibo is one of the most recommended platforms for business promotion in China.
Interface
User profile / News feed
Search section / Publications in feed
What Weibo accounts are available?
A Weibo personal page may be registered not only by ordinary users but also by business entities, therefore the accounts may be:
Personal (user) account

Corporate account
Personal (user) account
Personal account is an account for an individual, including celebrities and key opinion leaders.
Corporate account
Corporate account may be created for private companies, government entities, or official mass media. Verification is mandatory for a corporate account.
Can a foreign citizen register in Weibo?
Despite the established censorship in the Chinese web space, Weibo offers possibilities for non-resident users (personal account) and foreign businesses (corporate account). A non-resident company can register and verify its account to popularize the brand and promote their services.
Four easy steps for a foreign citizen to verify an account:
Open the Weibo site.

Select Personal account.

Select the "phone number" registration option.

Get a SMS code and enter your profile.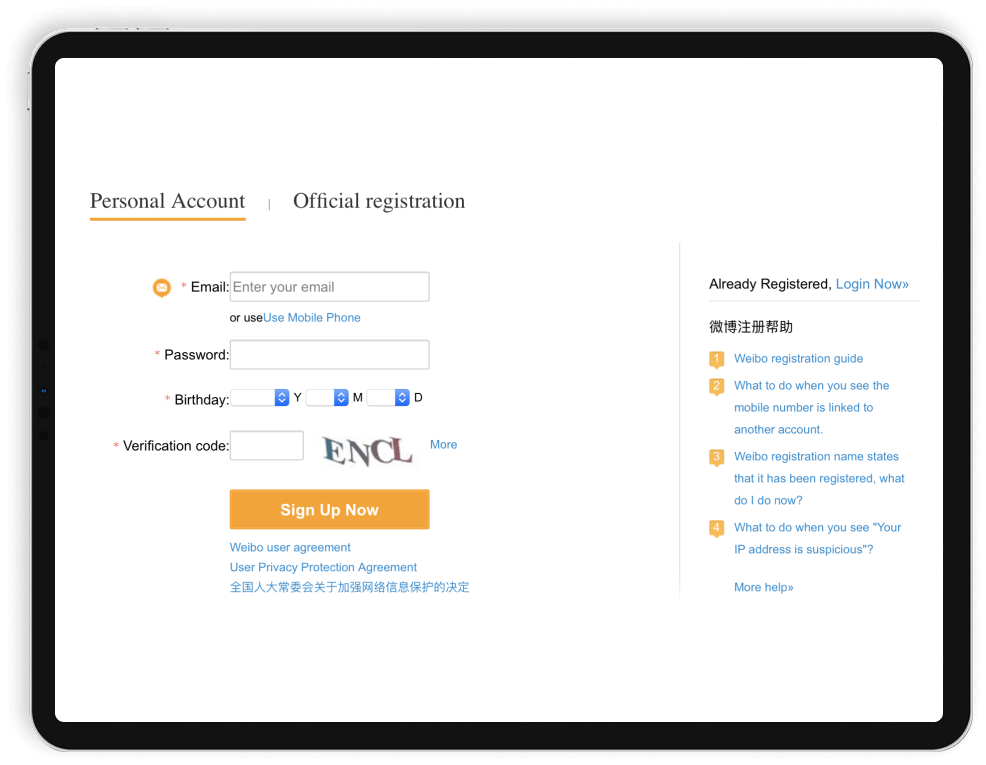 Badge system
To differentiate various types of users, Weibo developed a so-called badge system, which allows you to enable a VIP account and verify it.
VIP account
Weibo introduced a paid VIP subscription in 2012 to allow the users to extend their page functionality. Having a VIP account, you can:
Upload your own background with a logo

Select a unique background layout or upload your own one

Pin a post at the top of your feed

Appear in the other users' recommendations

Be the first in search results
VIP account is divided into 7 levels. Switching to another level depends on your activity and payment for your VIP subscription. For example:
15 CNY means 30 day subscription and 15 bonuses.
108 CNY means 12 month subscription and 20 daily bonuses plus 200 extra bonuses.

The levels and bonuses extend account management options, for example, you can ban users, increase the user number limit in your groups, etc.
Weibo verification
As we have already mentioned above, Weibo has an account verification function. Account verification is available to both individuals and legal entities (including non-residents). A verified account has a check mark near the profile photo:
Yellow check mark for individuals
Red check mark for celebrities and key opinion leaders with at least one million followers
Advantages of verified Weibo account
Contextual advertising. Having a verified account, you can create an advertising account and launch contextual advertising with advanced targeting settings.
Account designing. Additional options for account customizing, for example, creation of banners on the profile main page.
CRM. Analytics and user data collection.
Streaming. Broadcasts for followers, lotteries, and interactive events.
Such brands as Louis Vuitton, Coca-Cola, P&G, and Unilever have already launched their accounts on Weibo to:
Promote their brands in China

Deepen their knowledge of Chinese customers, their lifestyle and preferences

Widen their presence in China and attract millions of new clients

Turn the followers into loyal clients
What is needed to verify a Weibo corporate account?
To verify your corporate account, the following official documents should be submitted to Sina Weibo:
Account description

Your Weibo page

Weibo UID

Login

Area of activity

Description of company's activity (max. 30 words)
Company information
Official name of the company

Address

Business license No. (company, tax, or employee No.)
Contact information
Contact person information (full name)

Contact person phone number

Mail address
Verification documents
Business license

Application to verify Sina Weibo account
How much does the Weibo account verification cost?
The price of account verification is USD 1,000. This sum is charged as a fee for checking the company and its documents, translation, and notarization. For foreign companies, verification takes 10 to 15 days.
Types of advertisement in Weibo
As we have already mentioned above, Weibo is one of the best platforms in the Chinese web space to promote a brand.
The marketing platform with wide functionality is opened to verified accounts.
Targeting in Weibo
The key parameters for promoting publications are topics and bloggers. Topics are selected based on your area of activities; for example, if you represent the travel industry, then tourism, travel bloggers, individual countries and cities will be your main topics.
In the case of promotion through bloggers, your publications will appear as "recommendations" in the general feed of this blogger's followers.
Promotion among own followers
Attracting new followers
Thematic promotion
Thus, for the largest coverage and effective targeting for your target audience, it is better to "mix" both parameters to distribute the promotion of each publication to bloggers and the topics you select.
What budget is needed for Weibo?
The user coverage directly depends on your budget. In average, CPM is 25 yuan. For example, 500 yuan allocated per post gives 20,000 to 25,000 user coverage. The range is determined by particular topics, the blogger and his/her audience.
Contextual advertising in Weibo and minimum deposit
Contextual advertising with advanced targeting settings is available. To launch this type of advertising, you have to register an advertising account. The minimum deposit to launch a contextual advertising in Weibo is 10,000 CNY.
Design of a basic advertising account
Types of advertisement:
推广品牌活动投放给更多潜在用户,提升品牌影响力. Aimed at promoting the brand among the potential target audience and increasing the brand influence.

推广内容提升内容互动、关注以及链接跳转量 Promotion of content to improve the user (follower) interaction with the content and increase the number of clickthroughs.

提升粉丝影响力推广博文将优先展现在粉丝的信息流首位 Promotion among followers, appearance at the top of the feed.

How an advertising account looks like?

Targeting settings

Method of presentation (can not be edited once launched)

Optimal placement: the smart program automatically posts your advertisement at places with presumably high conversion.

Video stream (vertical video): full screen view of your advertisement.

Promotion of text as a pictured banner at the main page.

Stream of comments: promotion of comments to the post in the blog.

Advertisement purpose: impressions only.

Enter/upload key words, e-mails, phone numbers, etc.

Exclude audience / add similar users / do not show to my users / behavior (users interacting with topic / users interacting with posts in a blog / native advertising).

Age, gender, province, city, interests, status (married/single, student, employed, car owner, etc.).

iOS, Android, PC, etc.

Phone model.

Duration: limited or unlimited.

Exact time of impressions.

Minimal daily budget starts from 50 yuan. CPM based payments only – the lowest rate is 5 yuan per 1,000 impressions.

Placements and types of advertising layouts

1. Banners

The price depends on the banner's position and size. Having clicked on the banner, the user goes to your page in Weibo.

2. Advertisement

3. Plain text. Maximum 1,400 characters + 9 photos and/or video content with an active link.

4. Advertisement offer card with links and text (1,400 characters max.) and "Participate", "Buy", "Download" options.

5. Advertisement where 4, 6, or 9 photos may be published with links and text (1,400 characters max).

6. Promotion among own followers. Parameters: age, gender, location. Countries: Hong Kong, Macao, the USA, Canada, Australia, England, Japan, Malaysia, Singapore, etc.

Advertisement through influencers

So-called KOL (Key Opinion Leaders) promotion is considered one of the most effective types of advertisement in Weibo, as the bloggers have a significant influence on consumer behavior in China.

Key opinion leaders can repost your content, post and promote the texts made by you, write reviews to your goods at their accounts, and so on.

Dealing with KOLs, you pay for their reputation and experience in social networks. They make the content, which your potential customer is actually willing to consume. The price of a KOL depends directly on the size of his/her audience, activity at the page, and the way of your ad post promotion.

Direct sales in Weibo

In 2015, Weibo in cooperation with the main e-commerce platforms Jumei and Taobao initiated development of Weibo Window (a window for sales in Weibo) to enable direct sales on the social network. Weibo Window is available both to individuals and legal entities. Weibo Window is integrated in the content and presents the product image with an icon at the right lower corner. When you click the image, a window of the e-commerce platform opens where you can buy the product. Your potential client can also read the reviews of the good made by the other users. Weibo Window is the perfect option which allows the sellers both to enhance their recognition in the Chinese web space and stimulate direct sales.

Professionals of Sina Corp. have done amazing work to combine the e-commerce and social network functionality at a single platform and make Weibo the most effective tool to popularize brands and promote their goods and services.