TOP-6 Social Media in China 2020
Contents:
WeChat, China's major ecosystem
With its increasingly higher popularity, WeChat (Chinese 微 信) turned from a social network into the major ecosystem of China with an audience of over 1 billion incorporating many services of daily demand. The basis of WeChat is a messenger with some elements of a social network, where users can chat with each other, join groups, publish in the news feed and be content with all the options "typical" for a messenger.
User chats and groups in WeChat (source: hackernoon.com)
News feed in WeChat called "moments" (source: hackernoon.com)
Here we can add the integrated WeChat Pay wallet, a mobile bank to pay for goods and services or to make transfers between users. Goods and services may mean whatever that can be scanned and paid for – taxi, food, restaurant bills, utility bills, or even alms to a homeless.
Traditional Chinese homeless | Advanced Chinese homeless
WeChat subscription and service accounts
WeChat users can subscribe to other accounts (similar to Telegram channels or Facebook business pages) to get some information. In WeChat terminology, accounts are called "subscription" and "service" ones. WeChat subscription accounts are popular among KOLs, while service accounts are well suitable for businesses to broadcast newsworthy matters of any kind to their followers or process incoming requests from Chinese users.
TsUM service account in WeChat | VkusVill service account in WeChat
Mini programs in WeChat
Mini programs are another useful tool for business in China. They represent add-ons in the form of web pages (html5 format) in the WeChat ecosystem and are intended to be opened only from mobile devices and only within the WeChat ecosystem. Mini programs can serve as a catalog of your goods, and users can buy any product or service in two clicks and pay via WeChat Pay: this makes WeChat an attractive sales tool for any online retailer.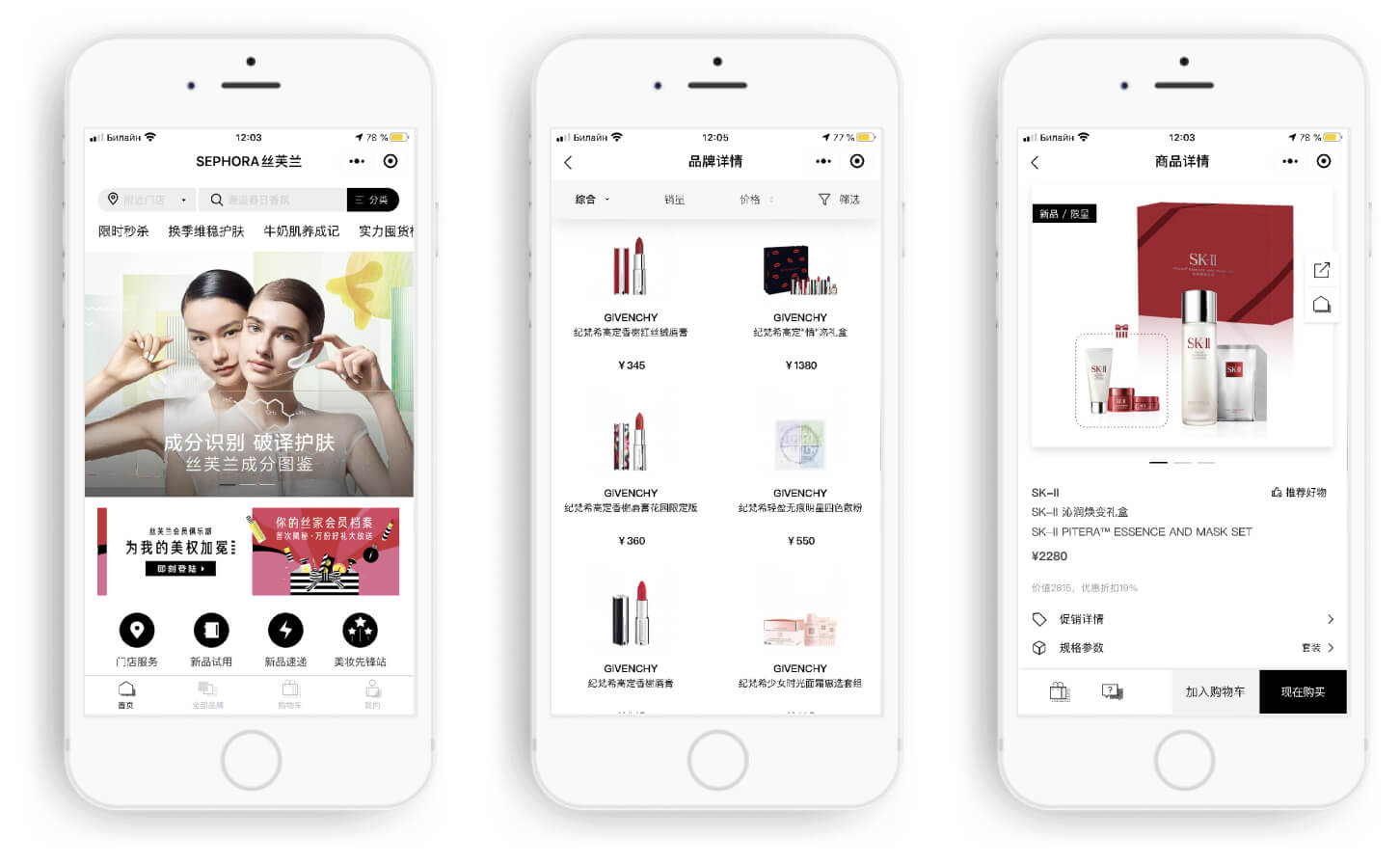 Example: a mini program of the SEPHORA cosmetic brand
Read more about mini programs here.
Promotion through WeChat advertising account
If you have a WeChat service account or a mini program, then you can promote your accounts through an advertising account at a cost per thousand impressions of 40 CNY (≈$6), place banner ads or links to your mini program. Registration of an advertising account is available to non-resident companies.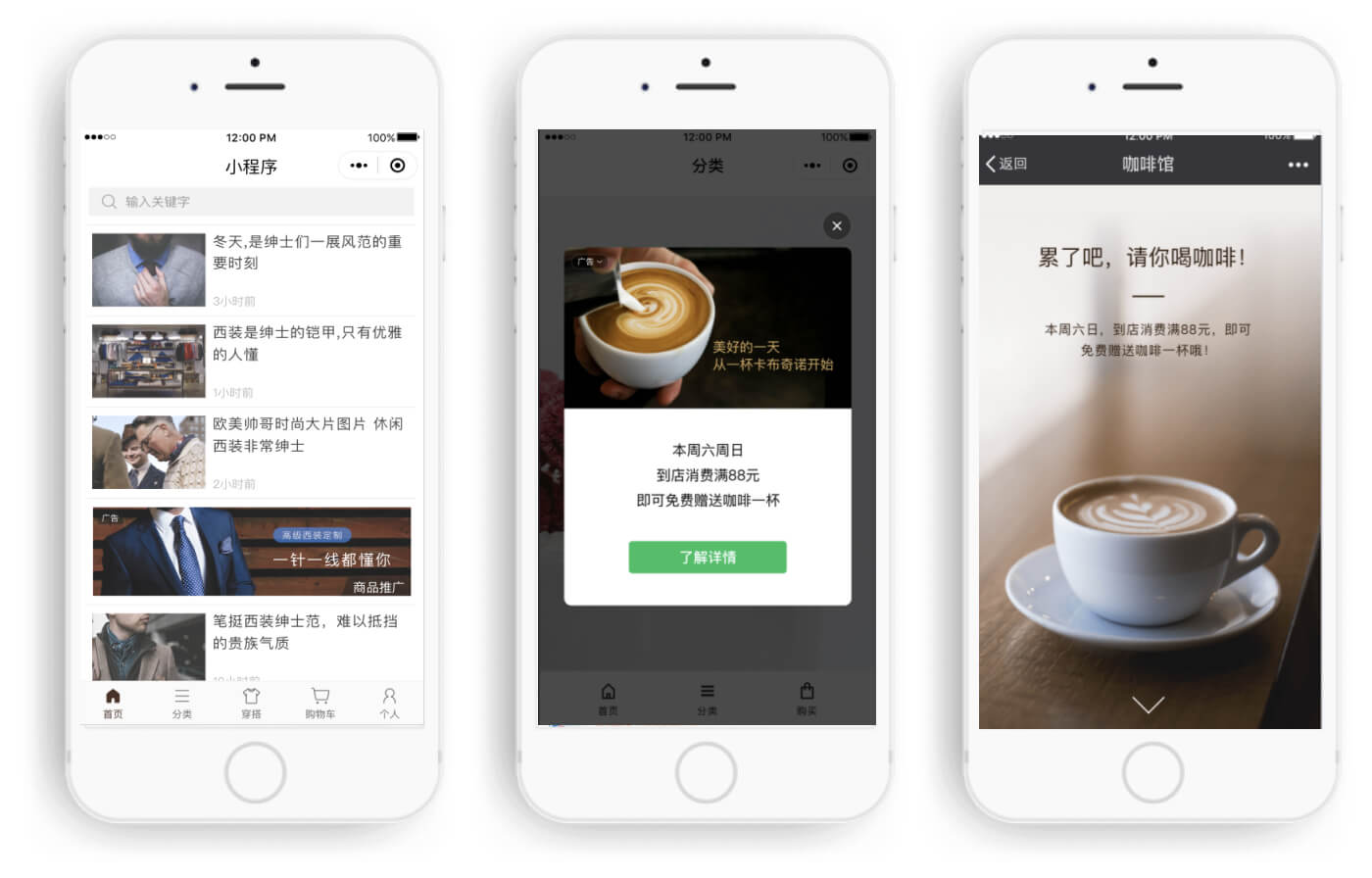 Weibo, the Chinese equivalent of Twitter and Instagram
Sina Weibo (Chinese 微 博) is a social platform. Western users commonly call it a microblogging service, although in fact it is an equivalent of Instagram and Twitter banned in China. Sina Weibo enjoys the active user audience exceeding 700 million.
The Chinese social network Weibo allows users to post both graphic and video content with a description. Unlike Instagram sliders, Weibo posts can be presented as collages.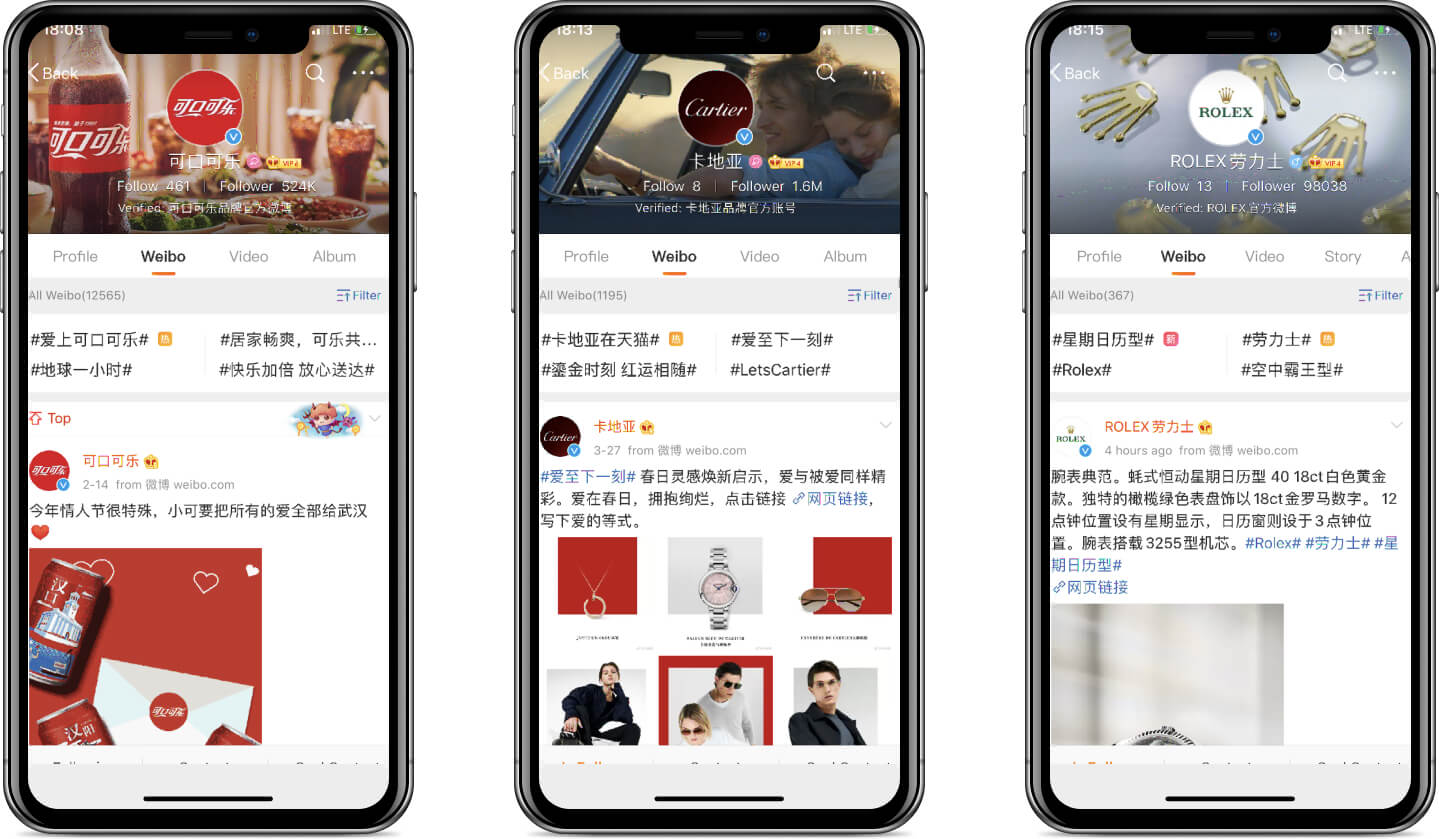 Example: official pages of Coca-Cola, Cartier, Rolex.
Despite some Chinese specificity, most Weibo functions are similar to Instagram: comments, likes, reposts and direct.
Sina Weibo may be interesting for foreign businesses from the promotion point of view. Thanks to flexible targeting settings, your posts can be promoted to the followers of the pages you target at; so before registering an official page, you need to have an idea about the presence of your target audience on the platform.
Promotion in Weibo is cheaper than in WeChat and costs 10 CNY (≈$2) per thousand impressions. Registration in Weibo is available for both an individual person and a non-resident company. In both cases, you will need a phone number (with any prefix) and an e-mail address, and in case of registration for a legal entity, charter documents including a business license.
To delve deep into the functionality of the platform, proceed to that wonderful longread.
Learn about all the promotion tools here.
Douyin, the Chinese TikTok
Douyin (Chinese 抖 音) is one of the most popular short video services today. The audience of the social media exceeded 350 million active users in 2019.
In fact, Douyin is a TikTok clone. How did it happen? Bytedance corporation was a Chinese unicorn company that developed TikTok in 2016. Due to censorship in the Chinese web space, they had to divide the service audience into Western (USA, Europe) and Chinese users. TikTok is available to Western users, while Douyin is available to Chinese users.
Today, the main difference between Douyin and TikTok is the audience. Unlike TikTok, the Douyin user age ranges between 18 and 35 years, so the Chinese service audience is more solvent.
Douyin is the most effective tool for promotion among Chinese users. Similar to TikTok, Douyin uses smart AI algorithms to deliver relevant content; and some content randomly falls into trends, which allows covering literally hundreds of thousands of Chinese.
На примере брендов McDonalds и Estee Lauder
Douyin offers three types of targeting with CPM = 30 CNY (≈$2):
manual settings (gender / age / geography / interests)

targeting to other user pages

intellectual targeting (using AI algorithms)
Similar to Weibo, a user page in Douyin can be registered having a phone number, international prefixes are allowed. Read more about registration and promotion tools here.
Little Red Book, a social media with some e-com elements
Little Red Book (Chinese. 小红 书) is a Chinese social media with some e-commerce elements and an audience of active users of more than 300 million. The main difference between Little Red Book and usual social media is accounts with an integrated store. Similar functionality can be found today in Instagram. The idea is that when you click on an object marked in the post, you go to the page where it can be purchased and paid for. Little Red Book combines all the usual online retail services – product placing, promotion, payment, and delivery.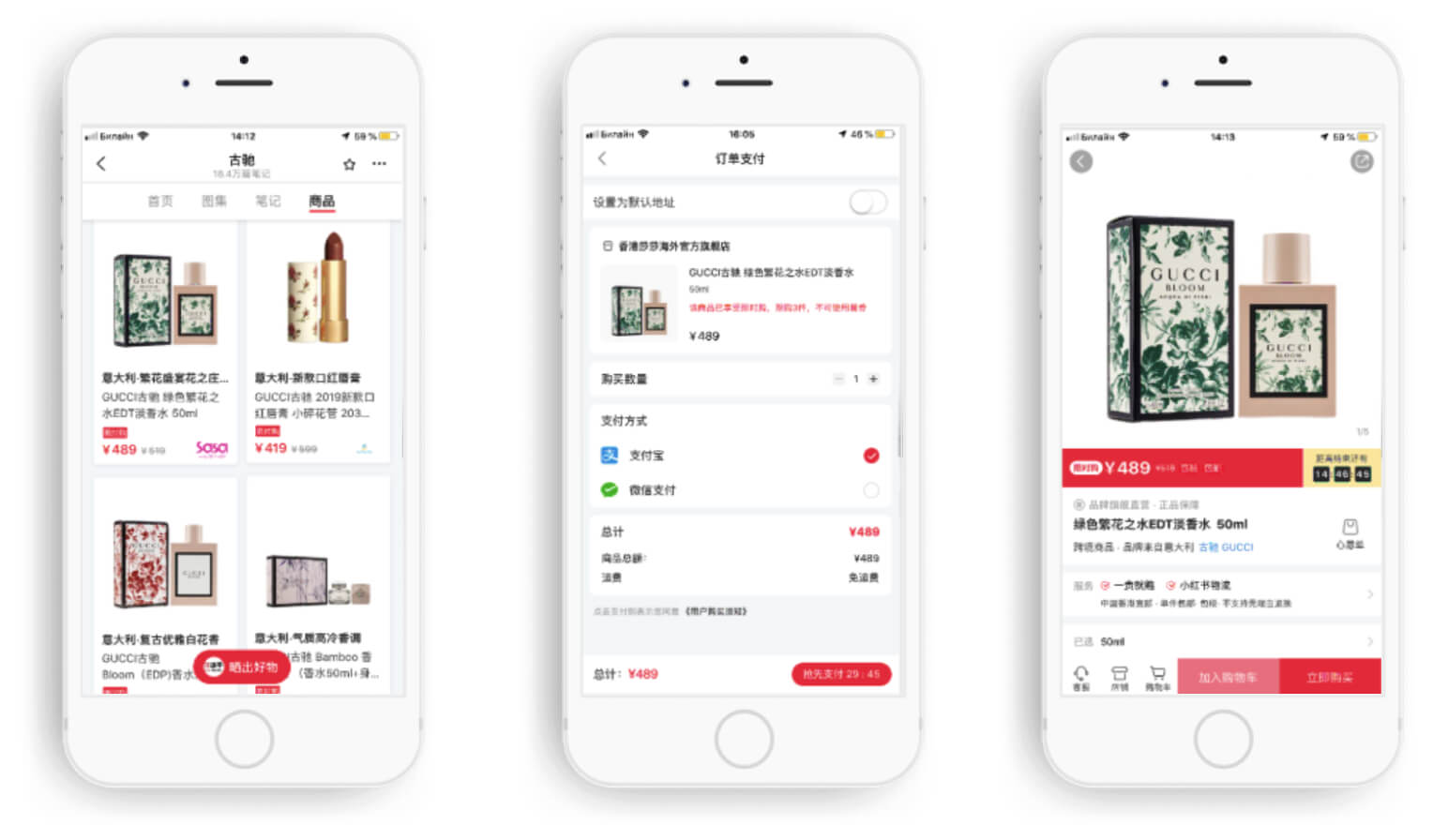 Selecting a product range | Selecting products to order | Payment
Many foreign premium brands are presented on Little Red Book, which makes the platform attractive to Chinese users with an average check above the average.
The possibility to register an online store for a foreign legal entity is attractive to any business that is interested in promoting its products and services in the Chinese market.
Promotion in Little Red Book
One of the most effective tools to popularize a service or product on Little Red Book is to write user reviews or case stories. Such materials are well indexed in the search results of both the platform itself and Baidu, the major Chinese search engine.
Comparative user reviews in Little Red Book
Learn more about promotion tools in Little Red Book and promotion tools here.
Kuaishou
Kuaishou or Kwai (Chinese 快手) is a short video service, an equivalent of Douyin with an audience of over 200 million users. Unlike Douyin and other video services, Kuaishou gained its popularity due to streaming broadcasts. Another difference between the platforms lies in the audience: in Douyin, the majority of users are residents of the tier-1 cities such as Beijing, Shanghai or Guangzhou, while the majority of Kuaishou audience reside in small cities or villages.
The Chinese market of key opinion leaders is experiencing another boom, so one of the most effective ways for a blogger to reach his/her audience is through live broadcasts in Kuaishou with product placement and other advertising integrations. Streams normally gain tens of millions of views and are very effective for both advertisers and customers.
Popular Chinese bloggers in Kuaishou
Promotion in Kuaishou
Another tool for promotion of goods and services in Kuaishou is the promotion of posts among users of the platform. The service's advertising account allows you to target by gender, age, and geography (within China). The platform has its own token called Kuaibi (Chinese 快币) that can be purchased for real money at a ratio of 1 CNY (≈$0.15) = 4 Kuaibi. The tokens can be spent to buy advertising campaigns; the minimum amount for launching an ad is 80 Kuaibi or 20 CNY (≈$3). Cost per thousand impressions is about 20 CNY (≈$3).
QQ
What is QQ? This is a multi-functional platform and formerly one of the most popular instant messengers in China, which is now owned by Tencent, the largest Chinese technology company. QQ was developed in 1999 for chatting only. However, now it's not just the largest messenger – it incorporates many other functions like online games, music, shopping, microblogging, and even movie watching and streaming. The monthly traffic exceeds 8 million users.
Popular games and streamers on the QQ platform
Promotion in QQ
One of the ways to promote goods and services in QQ is openly seeking and joining thematic groups. For example, when Chinese expats in Europe are the target audience, one can find in the search box a number of chats about Europe, join them, and offer or recommend a product in the course of communication. Another advantage is that QQ chats have no limitations on the number of group members, unlike WeChat where the maximum number of group members is limited to 500.
Thematic groups on the QQ platform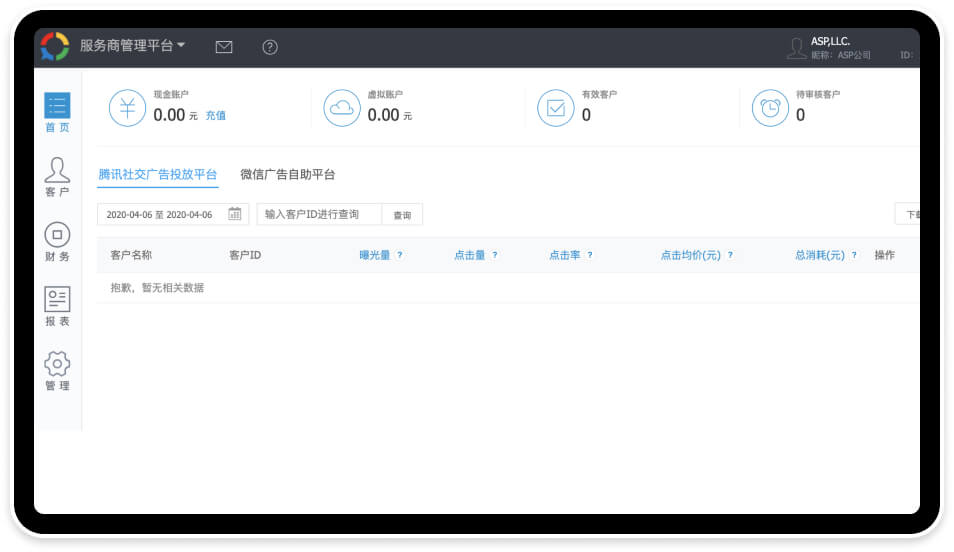 Tencent advertising account to launch ads on the QQ platform
There is also an official way to promote in QQ. To do this, you need to open an advertising account in Tencent, which allows you to promote on all the platforms of the network: WeChat, QQ, Tencent Video, Tencent News, Tencent Music plus ads in the Tencent news feed. An advertising account can be registered to a non-resident company.
Want to know more about Chinese social media and promotion tools in China? Contact us to learn something that your Chinese business coach does not know ;)