Comparison of Little Red Book and Wechat web platforms
Contents:
Success in business with China mostly depends on the right choice of platform. If you are reading this article, you are probably already aware about such platforms as Little Red Book and WeChat. If not yet, we highly recommend you to follow the links. To begin with, these are two dissimilar platforms with different functionalities and target audiences. Let discuss each of them.
Selling on WeChat
WeChat is the most popular messenger within mainland China. The active user audience exceeds 1 billion. WeСhat differs from other instant messaging systems by including a wide range of functions. For example, you can use your WeChat Pay wallet to pay almost anywhere in China, you can follow the news and read articles from official accounts of company or bloggers you are interested in; official accounts have mini programs used by the companies to arrange a store in WeChat.
One can sell any goods or services via WeChat. The application is used by almost all Chinese, regardless of gender, age, or place of residence.
Selling via WeChat can be arranged in several ways:
Mini programs in WeChat are WeChat add-ons integrated in your service account. Mini programs may have a lot of functions, from posting catalogs to ordering a taxi anywhere in the world. Mini program capabilities in sales via Wechat may include: creating a store and populating it with your products, creating a catalog and product descriptions, forming a cart, enabling WeChat Pay online acquiring.

Store on Weidian (微店) is an e-commerce platform within WeChat. However, there is a catch: you will need a Chinese legal entity and Chinese ID to open a store on Weidian.

Placing a link to your website or a marketplace where your products are presented.
Procedure:
A user subscribes to your WeChat service account.

Goes from WeChat to the website and chooses products from the range.

Pays or pre-orders.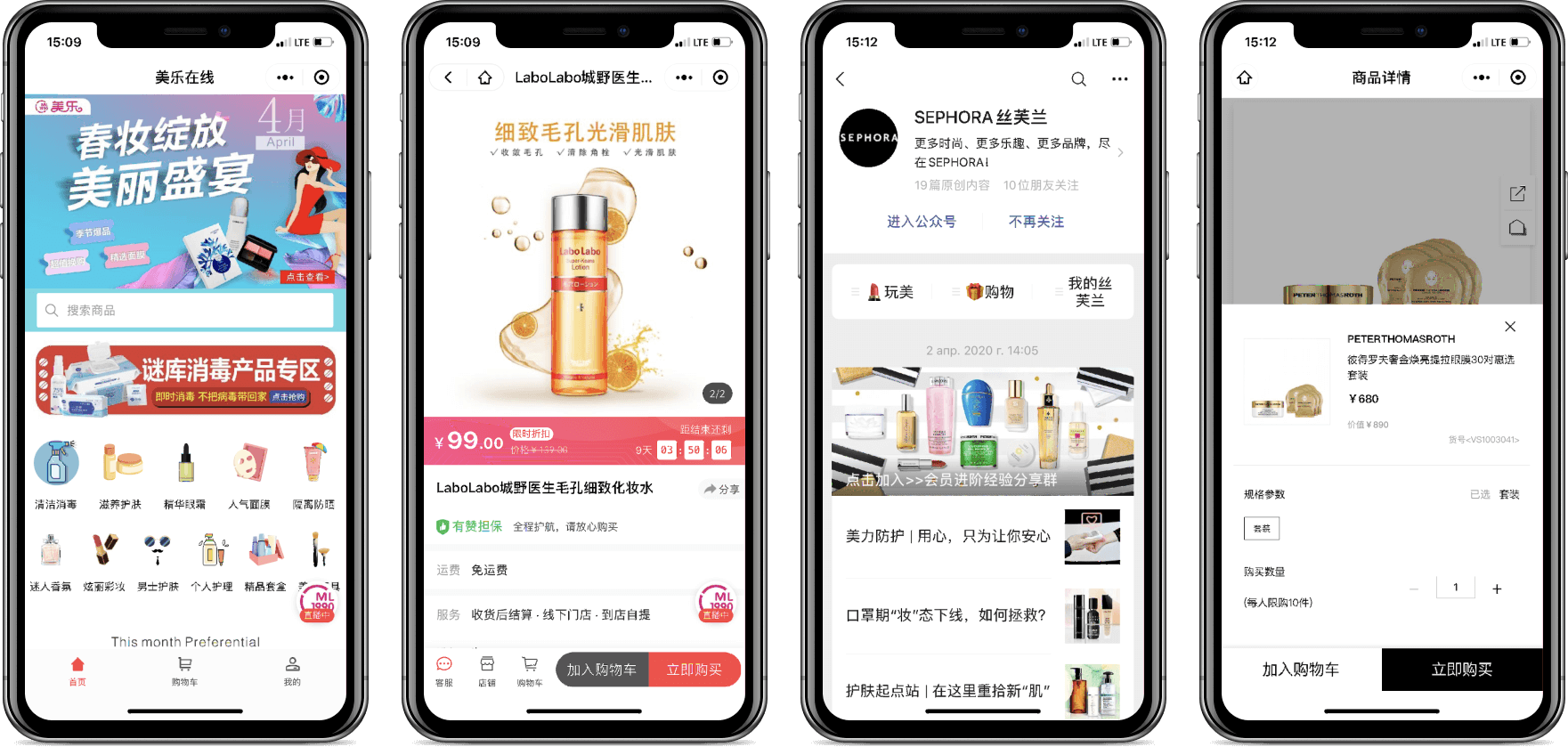 Selling on Little Red Book
Little Red Book is a social media with e-commerce elements similar in functionality to what Instagram is trying to implement now – the possibility to buy without leaving the social media. In 2019, the number of active users exceeded 200 million, including 30 million monthly active users. The main users of the platform are girls living in the first and second-tier cities. Statistically, 70% of users were born after 1995, and 88% of users are women. Little Red Book users most often post reviews on products or services and information about special offers and discounts all over the world. For example, Little Red Book often shows reviews on great offers in European perfumery and cosmetics stores. Little Red Book is very different from WeChat not only in terms of target audience, but also in consumer preferences.
What do Little Red Book users buy and what do they write about?
These are mainly clothes, cosmetics, food, baby food, fitness products, vitamins. Also, the users often post reviews on restaurants, museums, showplaces, theaters, and others.
How to start selling on Little Red Book
We previously explained in detail how to start selling on Little Red Book. In short, you will definitely need a Chinese business license or a company that will represent your interests. Another Little Red Book advantage is capability of logistics operations via the platform. For example, logistics companies dealing with LRB can pick up your products and deliver it to the Little Red Book warehouse.
Summing up, we would like to underline once again that the successful launch of business with China will directly depend on the correct choice of the target audience for your product and the platform. Contact us, and we will consult you and choose sales methods in China appropriate for your business.