5 reasons for the popularity of WeChat
Content:
What is WeChat?

Variety of functions

Initial capital

Firewall

Mobile payments

Business friendliness
Foreign companies interested in entering the Chinese market are curious about why WeChat is so popular in China. After all, this is just another messenger? Far from it!
WeChat is the largest and most popular social network in China. Its use is fundamentally important for reaching a potential target audience. It is so important that its use can be called a key point of the entire campaign to enter the Chinese market.
WeChat is an all-in-one app. Initially, it was really just a messenger, but now it is the basis of all Internet usage in China. It's a whole ecosystem of media, developers, online stores, mini programs, mini games, corporate WeChat plus the messaging that started it all.
What is WeChat?
At first glance, WeChat (微信) is a messenger application in which people can exchange text and voice messages, videos, pictures. But in fact, it offers much more. For example: WeChat includes various mini programs that can be used in almost all areas of daily activity. With their help, you can order food, pay for travel, get information about the bill, etc. - and all in one! These plugins make WeChat an almost universal application and create endless opportunities for tech startups.
During its launch in 2011, Tencent, the creators of WeChat, positioned it as the Chinese answer to such applications as Kik, Viber, and WhatsApp. But after seven years of operation it became an absolute leader in China. It has surpassed all its competitors, and today it is used by about a billion people.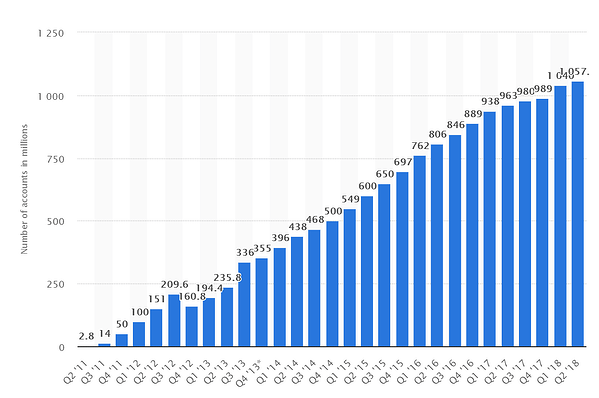 Monthly active WeChat users, Q2 2011 to Q2 2018 (in millions)
How did it manage to achieve such results in such a short time? Below you will find five possible reasons:
Variety of functions
The functionality of WeChat is a buffet where everyone will find something to their taste.
One application combines various functions such as:
If you compare this range of features, for example, with Facebook, you can understand why WeChat has become so popular, despite its Chinese origin. Simply said, WeChat is a multi-purpose platform that offers various opportunities for both companies and individual users without any need to switch between applications.
WeChat also uses the functionality of media platforms. It has service and subscription accounts with which you can read the latest news and other media publications. This encourages companies to use WeChat even more actively, especially since the CRM integration function has recently been available to them.
Start-up capital
Although Tencent, the creator of WeChat, was not world-famous at the time of its launch, however, it was already a major player in the social media market in China with its QQ application.
Almost everyone in China knew the QQ messenger before 2011. Tencent had nothing to do but to use an extensive database of hundreds of millions of users, since all it needed to register was, as you guessed, a QQ account. Tencent's existing user base allowed WeChat to outperform its competitors.
Firewall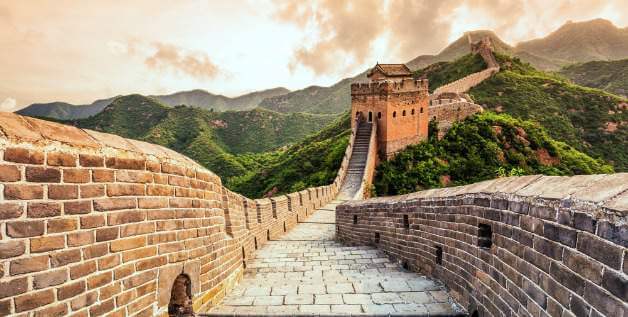 Facebook, Google, Twitter, YouTube and many other foreign sites have been unavailable in China since 2010 or earlier. In this sense, censorship has rendered a great service to WeChat, as it has protected its users from potential competitors and made them open to the Tencent product.
Charlie Smith from Greatfire.org said: "If there were no restrictions for foreign companies operating in China, I think WeChat wouldn't be the dominant app because they were late".
Mobile payments
WeChat, unlike many of its competitors, can be linked to bank accounts and credit cards. Using the QR code system, users can pay for goods and services by simply scanning a QR code. In addition, WeChat users can transfer funds to each other without commission, which is convenient, for example, when splitting an account in a cafe.
This has radically changed the payment system of China, which has been ahead of Western countries in this area for about five years, where contactless payments and new services such as Apple Pay are now only becoming popular. According to estimates, in 2018 the total number of Apple Pay users was 252 million people, which is significantly less than the number of WeChat users.
To date, users of WeChat and its online payment system can pay for:
Thanks to the integration of payments, the Chinese no longer need to use cash, because there is not even a commission for paying with WeChat!
Business friendliness
Unlike Facebook, WeChat allows companies to register an official account and get subscribers absolutely free of charge, where businesses are almost always forced to pay for the promotion of their pages or content.
Here are a few reasons why WeChat is attractive to companies:. Companies can register a corporate account in the application as a mini site with separate pages. They get the opportunity to publish updates in the form of text entries, videos, info graphics or photos. Customers can pay for goods and services directly through their WeChat account. Companies with 100,000 or more subscribers can purchase ads and promote their accounts, products and services.
WeChat not only provides a variety of functionality, but also allows companies to use its extensive base of more than one billion users, so we consider it as the most important tool for promoting your business in China.
But there is one "but"...
You need to register your company in China to register a corporate WeChat account. Also remember that the main language of WeChat is Chinese, so you may need help managing your account.